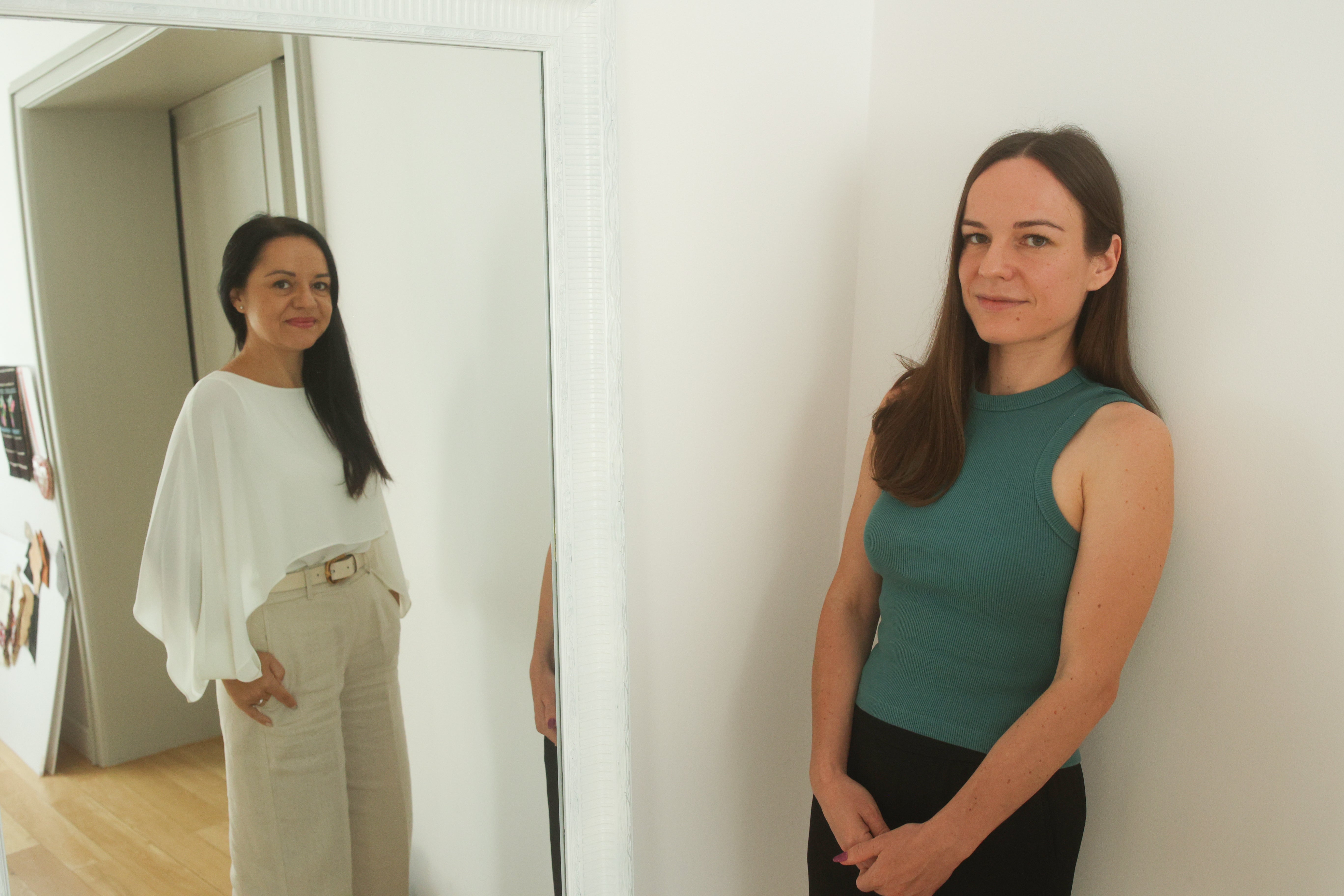 The creation of ATANA
Character is destiny, and House of Atana has encoded this wisdom in its DNA, just as the embroidery on the masterpieces of its shoes evokes a sense of elegance.
Aneliya and Tanya, the two sisters who founded House of ATANA, have always flirted with the idea of one day becoming business partners. "We grew up around people who have an entrepreneurial spirit - we got that from our grandfather, who owned a  general store in a small town. Throughout the summer, we would help in the shop and make sure everyone left with a smile on their face. My sister and I took it very seriously, and soon the whole town knew the best service is in our shop. We have inherited that hunger for collaboration and entrepreneurship by our father and uncle who are also business partners." Dedicated people are destined to excel – And it always manifests itself in the small details, as long as you can recognize the signs.
From their grandfather's general store to House of ATANA, Aneliya and Tanya parted ways, but they were both driven by success. Tanya, the older sister, drifted into the vast ocean of investment banking. She then worked as a financial advisor for Tony Blair's capacity building organization in Africa and later graduated from Harvard Business School. "I was surrounded by the best minds of our generation - motivated people with great ambition and drive to deliver. There were many opportunities to progress in an established career path , but I always felt that one day I'd start my own thing along with my sister.
In contrast, Aneliya didn't feel easily called to return to her childhood dream – after her degree at The Royal School of Needlework and Istituto Marangoni, she was happily challenged and fulfilled in her position as an embroidery designer at Alexander McQueen. Although they had taken different career directions, both sisters excelled in their completely different fields, building their professional network and knowhow. The experience behind the shop counter, their personal dynamics and business acumen was shaping them into the perfect entrepreneurial duo. "We both knew what good team work is and the exhilarating feeling of accomplishment when it brings - it was a matter of time to then transfer that back to  our family."
So one day in 2020, the world stopped spinning the way it did. We all felt the change, and for Aneliya and Tanya, that meant slowing down like everyone else. They remember the pivotal moment when the idea to start House of ATANA was born: "I was lying on the sofa with my favorite shoes on, my legs stretched in the air, and there was no place or event to take them out to. That's when I knew the time has come," says Aneliya, though Tanya was the one who always insisted they start a shoe Her own inspiration came from the unfortunate experience she had at her wedding with a beautiful pair of shoes that was so uncomfortable that her body was shocked with high temperature at the end of the night. Back then she became adamant that style shouldn't replace comfort. Two decades after their grandfather's general store, the right moment had come, even if it had to be in the middle of a world pandemic.
Thus, House of ATANA was born - at a very peculiar time when all sorts of challenges were growing by the day. From the beginning, Tanya and Aneliya knew they would not compromise on any detail. They invested in the highest quality materials imported from Italy, researched and implemented shoe embroidery, and ensured excellence, style, and comfort in every ATANA model. Wrestling with the uncertainties of starting a premium brand in the midst of  a global pandeminc and finding the right supply chain to support their strive for perfection made the first two years of ATANA particularly challenging. To make shoes is one thing but to put embroidery on them is a completely different ball game - it took research and dedication, but the sisters proved that nothing is impossible as long as you act with resourceful determination.
An idea long time coming has finally left the realm of metaphysics to become the go-to brand for women seeking comfort AND design. The dynamics between the sisters as business partners also plays an important part of the road to success. "We can argue about things but if one of us is really set on something, then we do it. As long as you are absolutely firm about something, then it's a no brainer, we go for that idea. If it proves to be ineffective, and that does happen, there are no "I told you sos". We just continue forward." 
The creation of House of ATANA was not only a dream come true, but a proof that anything we aspire to can become a reality as long as we are willing to put in the first step and all the  effort that comes right after it. As hard-working women who love their shoes, Tanya and Aneliya appreciate the certain lightness that comes with carrying their dreams on their shoulders Returning to their heritage  gives their own brand a unique energy - drawing from the well of time and generations.
And suddenly you realize that everything is connected.
By Elena Sergova